Lead Photographer & Designer / Full of Whimsy Design and Photography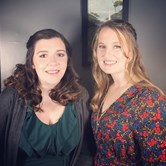 About Me
Full of Whimsy is a photography and graphic design business based out of Norwich, CT. Owners, Margit and Kellie, are two best friends that shared a common goal: to start a business doing what they love and to that love with others!
Margit is the photography half of this dream team. Margit's photography style is timeless and heartfelt. She captures beautiful moments as they happen with an eye for noticing precious future memories as they occur. Margit's photographs continue to evoke emotions for those who have had the pleasure of working with her.
Kellie, the other half of the team, is a graphic designer with experience in custom branding, personalized wedding invitations, and more. Kellie helps her clients turn their vision into a beautiful reality. She loves getting to know her various clients, and using multiple artistic mediums to accomplish their goals.
Together Margit and Kellie are the perfect combination of creative services, with just a touch of whimsy!
More people in this category